Archive II and current impulses a
nd
POST:Bot:In

Welcome back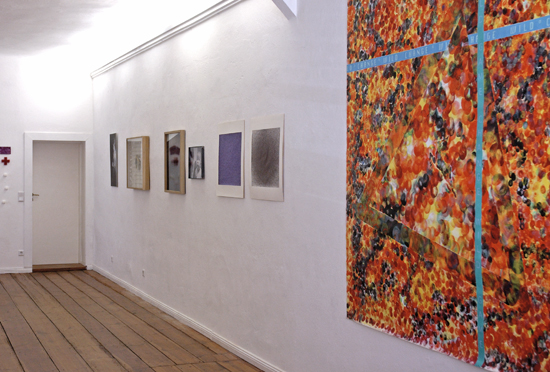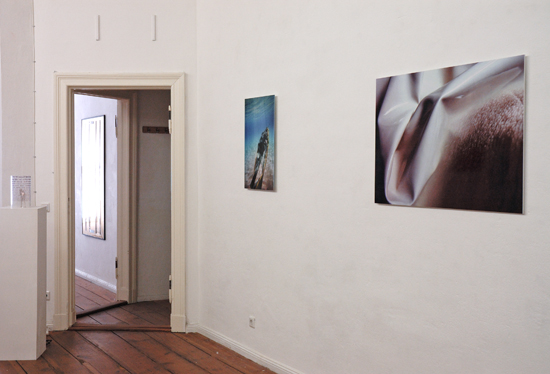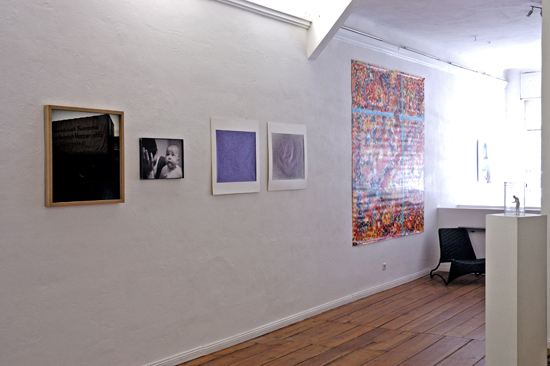 The G.A.S-station filling station for art and impulse, Berlin, sees itself as a living space for cross-disciplinary neighborhoods. On an ongoing basis, we gather contributors from art, science and literature in our international, cross-disciplinary exhibition projects.
In addition to the thematically centered, cross-disciplinary exhibition projects, we present other exhibition formats whenever time permits. This year we want to start with the exhibition Archive II - Current Impulses and Post:Bot:In.
More than 40 postcards were sent to us for the Post:Bot:In project; it will be the prelude to the exhibition and convey a mood picture in these complicated as well as difficult times.
Fourteen positions from our archive and four current positions that we have selected from the submissions will be presented as part of the exhibition Archive II - Current Impulses.
When visiting the exhibition, we ask that you observe the current Corona regulations for Berlin and please wear an FFP2 mask in the rooms. Thank you and welcome back.
Opening 8th April 2022, 6–8 p.m.
Exhibition: 13.4.–31.8.2022
Opening hours: We–Fr 3–6 p.m.
Archive II - with works by:
Thomas Born, Käthe Schönle, Hans Klestofer, Yikui (Coy) Gu, Marko Zink, Michaela Göltl, Thomas Maximilian Stuck (tms, Tomax), Elisa Asenbaum, Draga Jovanovic, Christiane Spatt.
Current impulses with works by:
Oliver Möst, Edin Bajric, Oliver Orthuber und Wolfgang Neipl
06.-20.5.2022, Oliver Möst, Seerosen, 2014
27.5.-10.6.2022, Edin Bajric, Gravitation, 2020
17.6.-1.7.2022, Oliver Orthuber, Elektrogegenständliches – Föhn, 2021
19.-26.8.2022 - Wolfgang Neipl, Shipwreck - Poesie der [Ge] Zeit [en], 2022
Archive II
13.4.–31.8.2022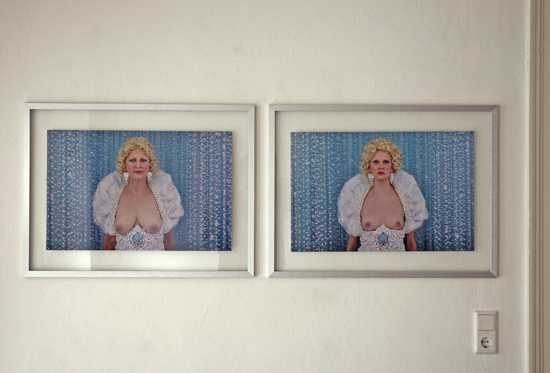 Draga Jovanovic
"Your self is a reflection of myself", 2012
two photos, each 65 x 43 cm, framed, alu, glass, each 80 x 60 cm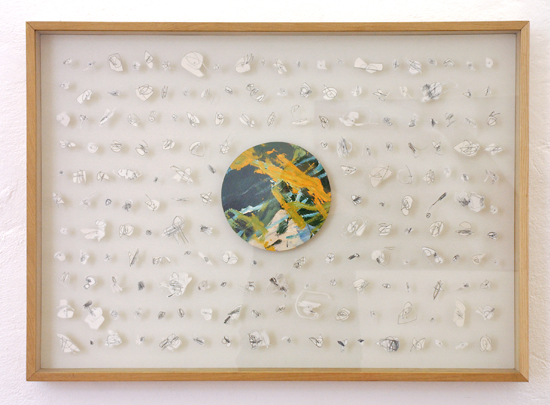 Käthe Schönle
Insects & Offspring, 2009,
Installation, mixed media in showcase, 85 x 60 x 6 cm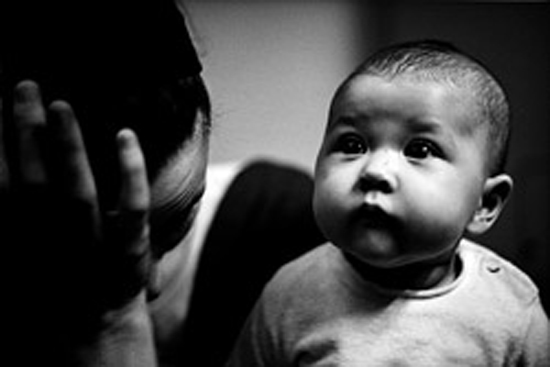 Hans Klestorfer
urs und greta, 2006,
b/w foto, 30 x 45 cm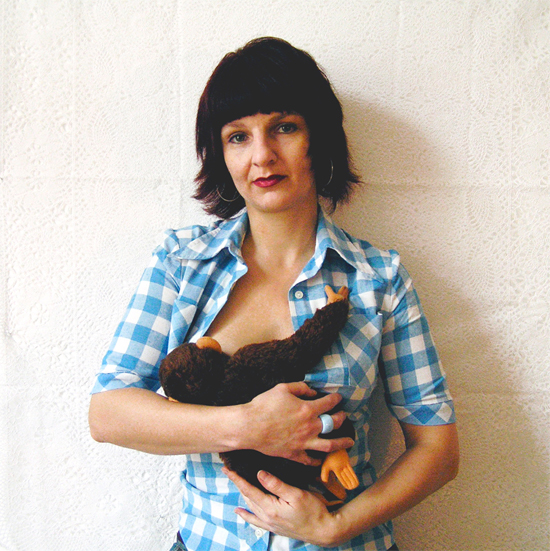 Christiane Spatt
Jane, 2006
digital print on Kapa, 75 x 75 cm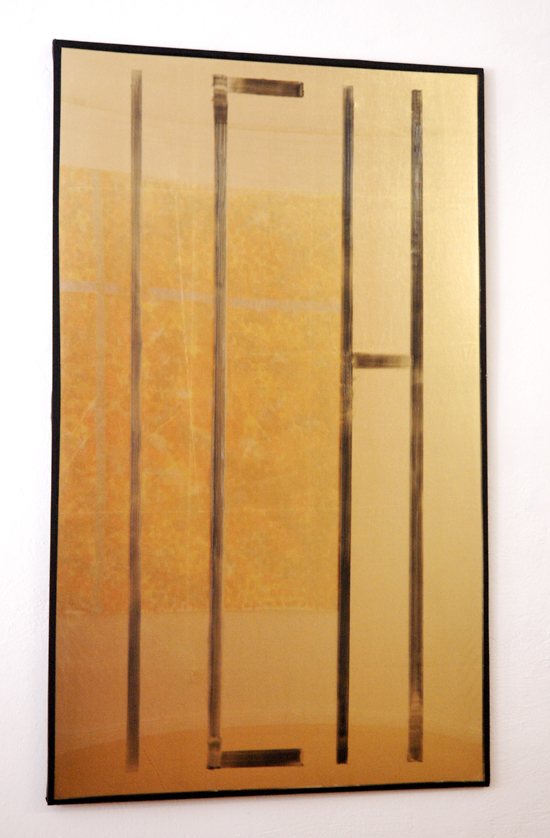 tms,
ICH, 2022
acrylic, aluminum, gold cloth, grease, 150 x 80 cm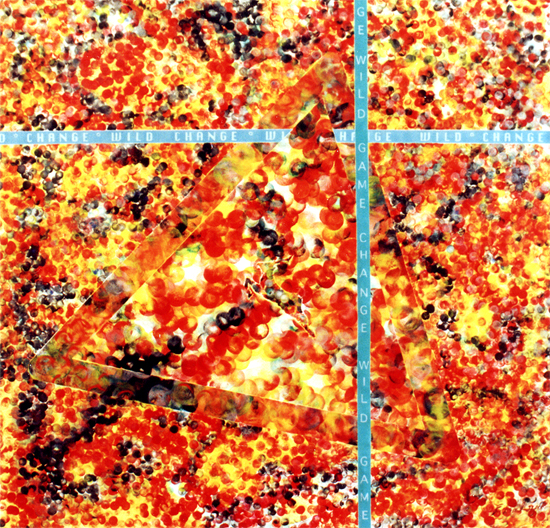 Elisa Asenbaum,
Wild Change, 1998,
acrylic on canvas, 215 x 200 cm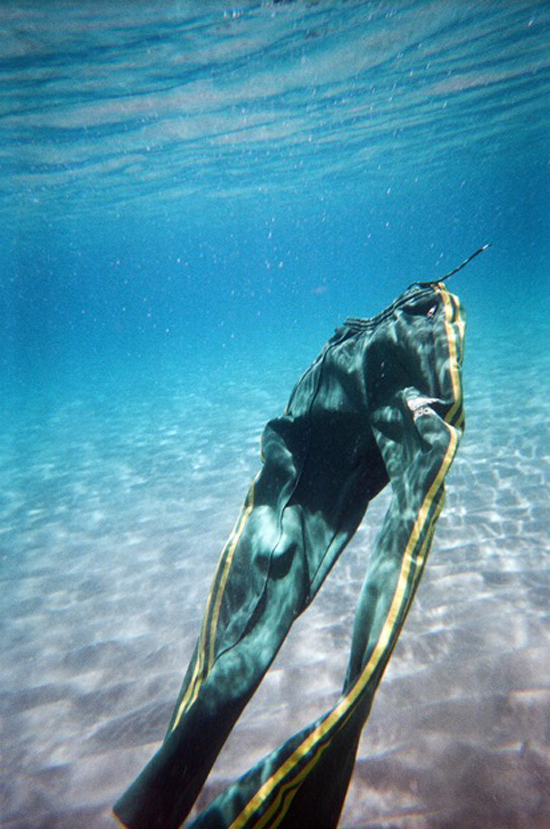 Marko Zink
out of the seria Schwimmer: sporthose, 2009,
diasec, on Alu-Dibond and acrylic, 70 x 45 cm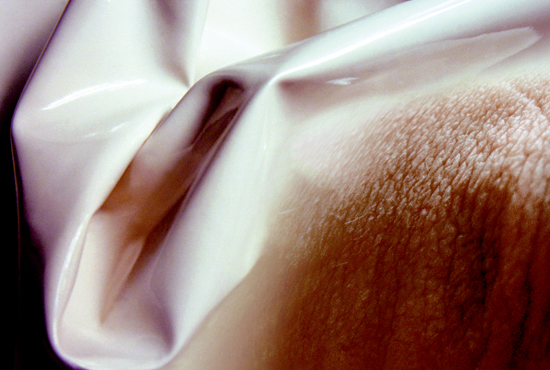 Michaela Göltl
TRANSFORMATION #04, 2002/10
digital print, laminated on synthetic material, 74 x 110 cm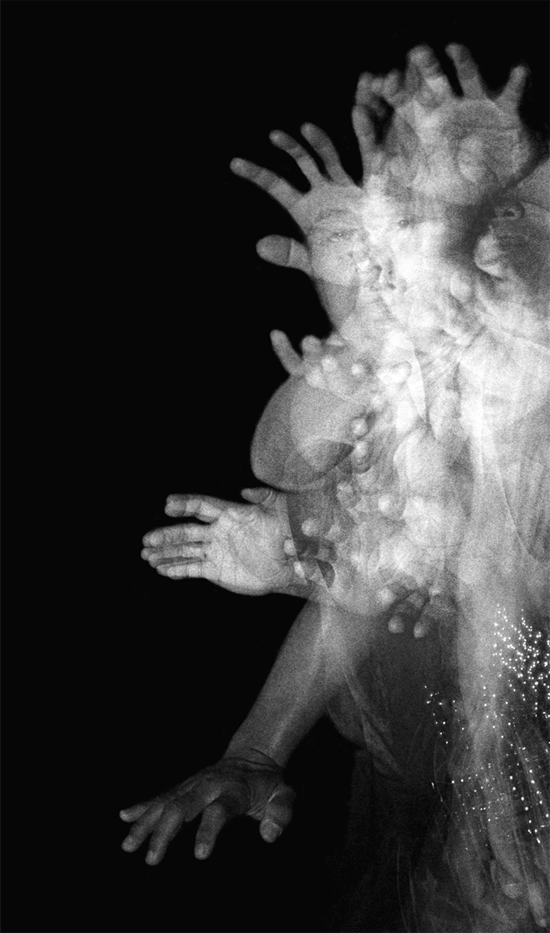 Thomas Born
Bambangs Qigong
pigment-inkjet-print, on Kapa, edition bildo /8'/5', 73 x 42 cm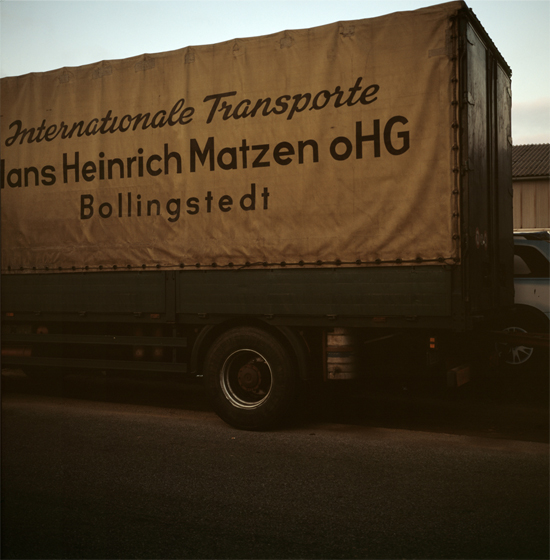 Hans Klestofer
fahrender laster stehend, 2006
digitized 6 x 6 dia, laminated, framed MDF, 50 x 50 cm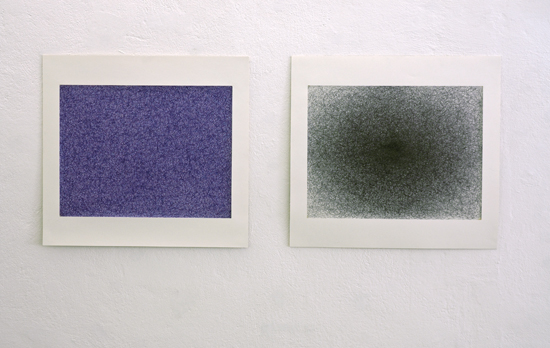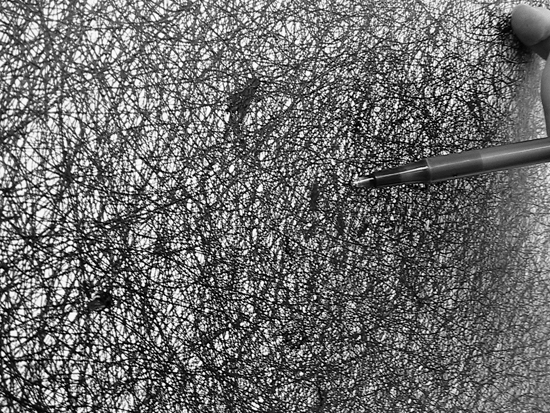 Yikui (Coy) Gu
The Longest Purple Line I Have Ever Drawn (purple), 2009,
The Longest Purple Line I Have Ever Drawn (b/w) Detail, 2009,
pen on paper, 45 x 60 cm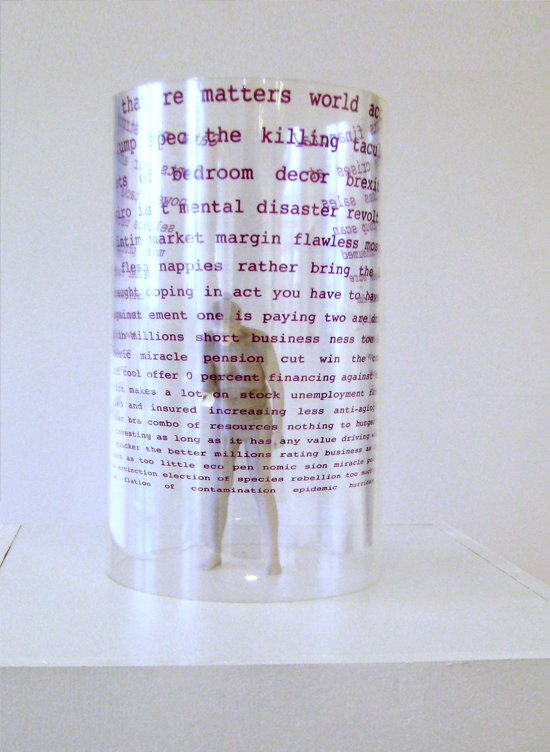 Asenbaum/Stuck, Poem (English): Elisa Asenbaum
reduction, 2018
object, figure 15 cm, acrylic glass Ø 15 cm, h. 25 cm, stand (130 x30), light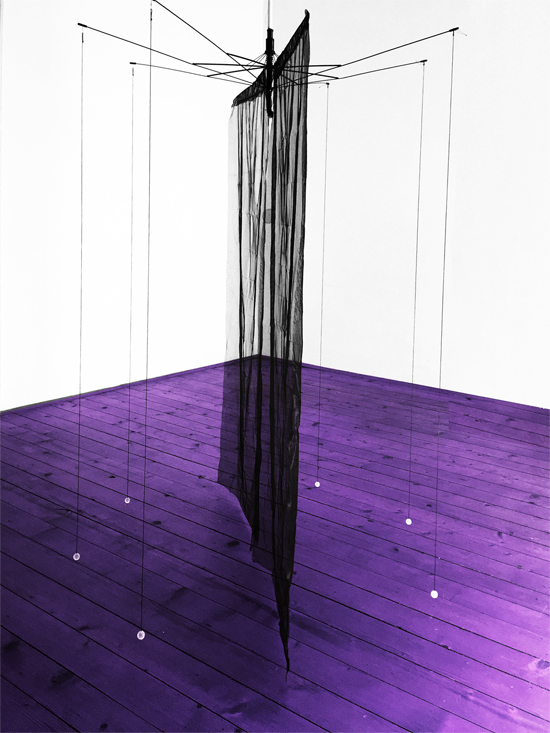 Elisa Asenbaum & Thomas Ballhausen
Die Schirmfrau, 2021
mixed media installation. object/conception: Elisa Asenbaum, iron, wood, cords, glass perls, cloth, 120cm Ø x 225 cm, music stands, text sheets.

Text: Wir buhlen um die Gunst der Schirmfrau: Ballhausen & Asenbaum
Audio: loop 13:55 min, voice: E.A.,
Sound editing: T.M. Stuck.
POST:Bot:In 8.–29.4.2022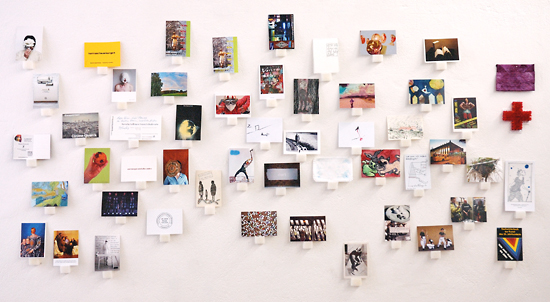 POST:Bot:In - with submissions from:

Albert Markert, Anna-Maria Kursawe, Boris Nieslony, Anne-Theresa Wittmann, Anne Sommer-Meyer, Christiane Spatt, Dietmar Paetzold, Gisela Weimann, Gisela und Hans-Gerhard Templin, Gudrum Fischer-Bomert, Herbert J. Wimmer, Ilse Kilic, Isolde Gorsboth und Ulrich Gorsboth, Klaus Fezer, Kornelia Hoffmann, Manuela Beyer-Bunk, Marion Steinfellner, Martin Wilhelm, Michel Meyer, Patricia Brooks, Paul Kroker, Peter Warum | Rum, Susanne Helmes, Stephan Groß, Tobias Schnotale, Udo Brüning, Viola Wandsey, Wolfgang Grossmann, Wolfgang Hille.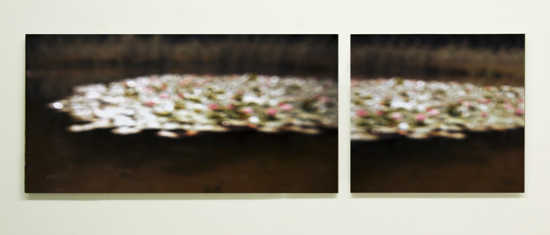 C-Print, behind plexi glass, on AluDibond, ab. 50 x 98 cm & 50 x 55 cm
Seerosen, 2014
Oliver Möst
Opening: 6.5.2022 - 6-8 p.m.
Exhibition: 06.-20.5.2022
Opening hours: We–Fr 3–6 p.m.
The work "Water Lilies, Diptych, 2014" is from a group of works that refers to images from art history. The photos in this series were taken with a camera in which my right eyeglass lens with 6.0 diopters is permanently installed. The viewer of my images thus takes over the visual impairment of the photographer, as a radical transfer of subjectivity.
Oliver Möst born 1968 in Füssen, Allgäu, lives since his photography education 1992-1994 at the Lette-Verein in Berlin. Extensive curatorial work for project spaces, galleries, museums. Since 2016 he is active in the network of free Berlin project spaces and initiatives and is a member of Errant Sound www.errantsound.net. Between 2019 and 2020 he was the artistic director of Kommunale Galerie Schoeler.Berlin and since fall 2020 he is project coordinator of StadtfindetKunst.Berlin for the district of Charlottenburg- Wilmersdorf. Numerous exhibitions in institutions, galleries and project spaces.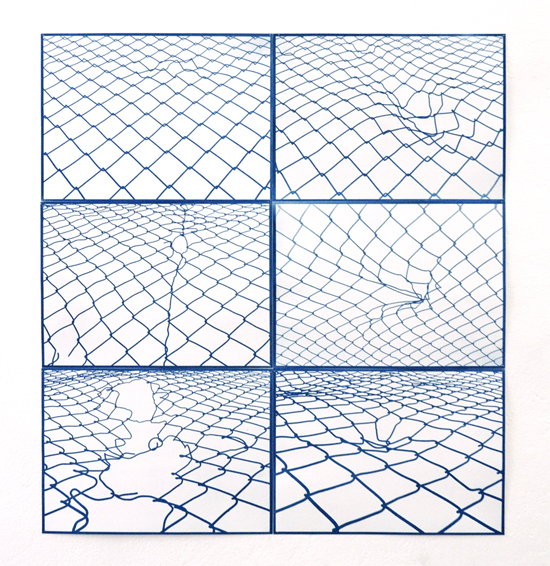 Cyanotype on handmade paper (single sheets á 30 x 42 cm, total 90 x 82 cm)

Gravitation, 2020
Edin Bajric

Opening: 27.5.2022 - 6-8 p.m.
Exhibition: 27.5.-10.6.2022
Opening hours: We–Fr 3–6 p.m.

Gravitation is born from pure observation. An old fence that has served for years the clear demarcation, is transformed in his work to a graphic representation. The graphic allows both a view into the almost infinite and the clear demarcation of the before and behind. The interventions of man, are the exciting elements in this graphic. By looking from below and twisting and merging the individual motifs into one image, the viewer gets lost in the unreal landscape.

Edin Bajrić was born in 1980 in Bosanska Dubica (Bosnia and Herzegovina). He studied fine arts at the University of Applied Sciences and Arts Hanover from 2003 to 2007, majoring in painting and media art with Prof. Verena Vernunft and Prof. Sigrun Jakubaschke. Graduation: Diploma Artist (FH) with Prof. Verena Vernunft and Prof. Helen Koriath.
In 2008 he was appointed master student of Prof. Verena Vernunft. Edin Bajric has participated in numerous exhibitions at home and abroad since 2008. In addition, there are about 20 solo exhibitions, participation in film festivals and art fairs, as well as numerous publications in catalogs and print media. Works by Edin Bajric are in private and public collections.
Since 2014 until 2021, Edin Bajric was an artist-scientist at Leibniz University of Hannover, Faculty of Architecture - Department of Art and Design. He is an active member of the artist initiative "KUNST UND WARUM e.V.", co-founder of the art space "konnektor - Forum für Künste" and one of 3 curators of the art series "Meet!".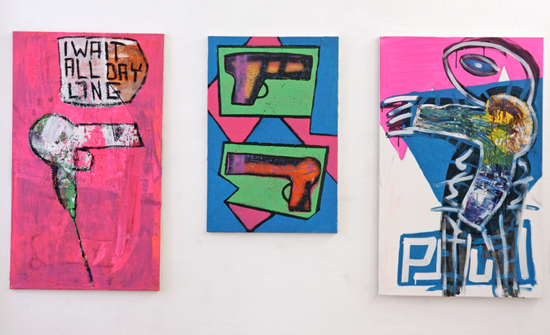 03 Wait All Day Long, 2021, oil on canvas, 120 x 75 cm, 07 Pine-Island-Gletscher, 2021, oil on canvas, 90 x 70 cm, 09 Nimrod, 2021, oil on canvas, 120 x 75 cm

Elektrogegenständliches - Föhn, 2021
Oliver Orthuber

Opening: 17.6.2022 - 6-8 p.m.
Exhibition: 17.6.-1.7.2022
Opening hours: We–Fr 3–6 p.m.

The three paintings are an excerpt from the 9-part series "Elektrogegenständliches - Föhn". This study deals with the everyday object hair dryer in a painterly dirty expression in the spirit of the art movement Pop Art. In art historical terms, Pop Art is considered a departure from abstract expressionism. In this art series Orthuber unites the two opposing art movements.

1. Wait All Day Long: This image refers to Roy Lichtenstein's "M-Maybe" by personifying the electric object hairdryer and illustrating his/her emotional state in the comic bubble, how lonely he/she feels most of the time of his/her existence in the cold bathroom atmosphere.

2. Pine-Island Glacier: Pine-Island Glacier is a major ice stream in Ellsworthland, West Antarctica. The title "Pine Island Glacier" refers to man-made global warming, which is driven precisely by a non-conscious use of everyday objects. Thus the purely pictorial conversion of the dirty Pop Art gets an additionally inserted meta level by the title.

3. Nimrod: Nimrod is a hero and king from the Bible and the Koran and is considered a great hunter. His name means something like "to resist" and so he is said to have rebelled against God. In the final image of this art series, the personification of the electro-object hairdryer is found through an assimilation in the depicted body of Nimrod. Here, too, an intertextual level takes place through the titling, while ostensibly the painterly realization of the personification in the dirty Pop Art style in connection with abstract expressionism was pushed to the final point.

Oliver Orthuber born on July 20, 1970 in Simbach am Inn, grew up in Altötting, Upper Bavaria. Studied architecture at the TFH Berlin in 1995, graduated in 1999, then worked as an architect on various projects. During this time, he turned to art and subsequently ended his architectural career. Since then, he has been active in the fields of music, literature and visual arts in Berlin.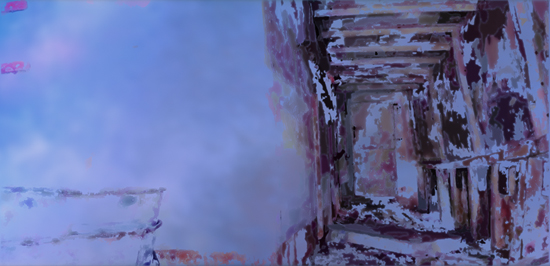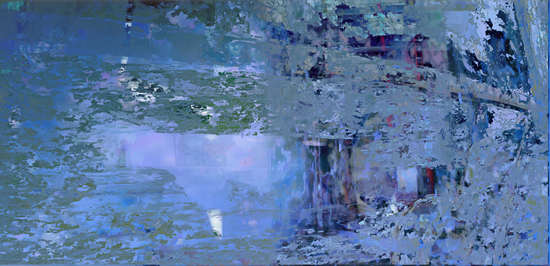 Videostills: Shipwreck - Poesie der [Ge] Zeit [en]

Shipwreck - Poesie der [Ge] Zeit [en], 2022
Videoprojection, Stereosound, apr. 13:30 min (loop)
Wolfgang Neipl

Opening: 19.8.2022 - 18-20 Uhr
Exhibition: 19.–26.8.2022
Opening hours: We–Fr 3–6 p.m.

Neipl first translated the idea of erosion on a ship's hull over time into a model of surface layer erosion. Scales (molecules) are detached from the photographic image and these are then placed in a new relationship to show time and electronic image space.

The original, static image - the still - still shows the ordered skin structure of the (ship's) body, or what time and weather have left of it. The reorganization of the image molecules in the context of the time-based medium creates a different, a dynamic order: One no longer sees everything simultaneously, nor in the same way, that is, never the same, but recognizes - through addition and subtraction - always anew.

In the storm of the tides, the image molecules find themselves in ever different neighborhoods over the duration of the film time (duration), themselves constantly changing their appearance. They have all freedom. They can disappear completely, sink and reappear, can be sometimes opening and sometimes surface. Passively, they also change their character by constantly changing the color of the neighboring molecules (see also "simultaneous contrast" according to Johannes Itten, according to which color - by changing the neighboring color - also changes its own character). The visual blueprint is characterized by billions of (color) nuances. Individuality by always different neighborhood and new recognition.

Wolfgang Neipl, *1961 in Vienna.
Apprenticeship as civil engineering technician. Studies of journalism and communication sciences, respectively sociology in Vienna (1983-1985). Art studies: teacher training in design, visual education and technical works (graduated in 1991). Visual media design, digital art with Peter Weibel (graduated 1993). Lives as a visual artist, media artist, and short and experimental filmmaker in Vienna. Sound and sound composition. Main focus: Art in public space, interactive approaches, electronic image and sculpture, image and image sound. Teaching and lecturing activities: art teacher (1991-2002), since 1994 teaching at the University of Applied Arts, Vienna.

Im Schaufenster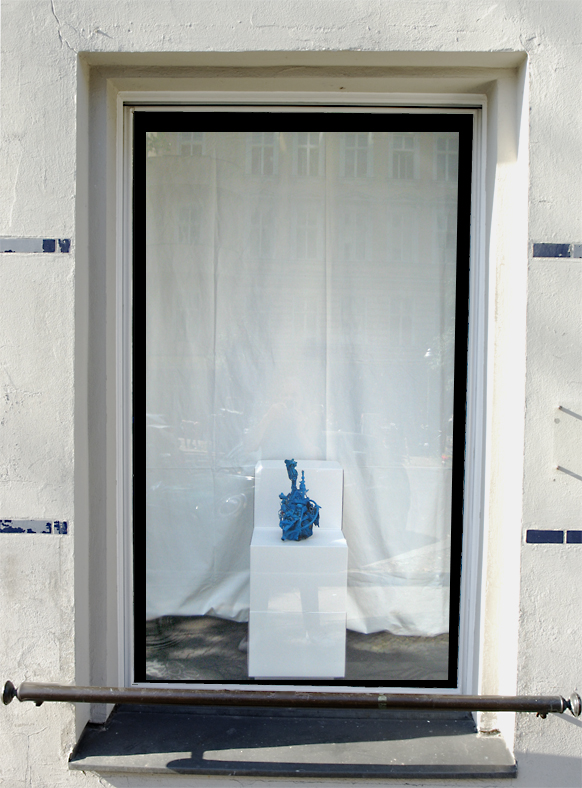 Turmartige Parasexualität, 2015
Oliver Orthuber
The object "Tower-like Parasexuality" was created during the installation development for the fall project 2015 "Augustina dreams in progressius". Oliver Orthuber has been working on a multimedia installation since spring 2014, this tower-like stacked object made of plastic, cardboard and small material outed its parasexuality on 25.4.2015 (at the OpenProcessDay).
Acrylic on plastic, cardboard, foam, ca. 28 x 15 cm
daily: 11:30 am-8 pm at Schaufenster
The Catalogue to the exhibition ART is DeaD ∞:
56 pages, Berliner Format 31,5 x 47 cm with many colored and b/w images and detailed textes to works and participants in German. Edition of 600 copies. Prize: 12 Euro, ISBN 978-3-948827-12-0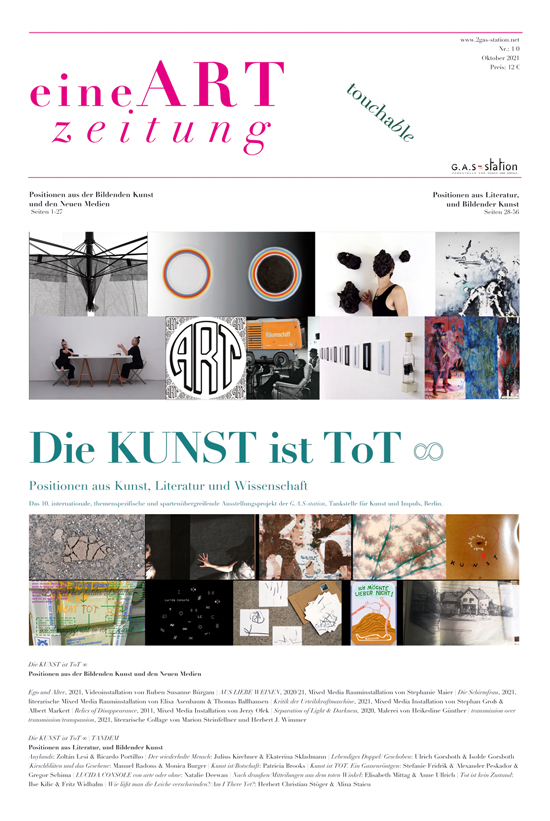 G.A.S-station-YT-channel
Videos and Livestreams
All catalogues and broshures
you may find now on the new Publications page

www.2gas-station.net © 2022