Archive II and current impulses a
nd
POST:Bot:In

Welcome back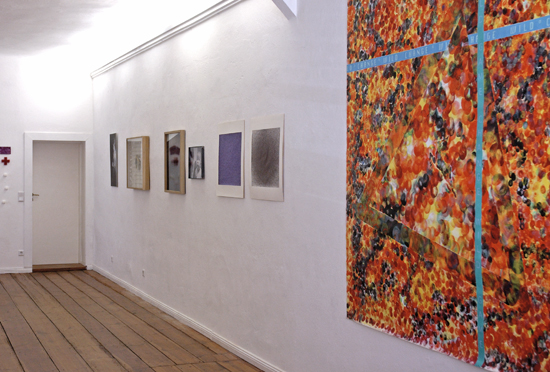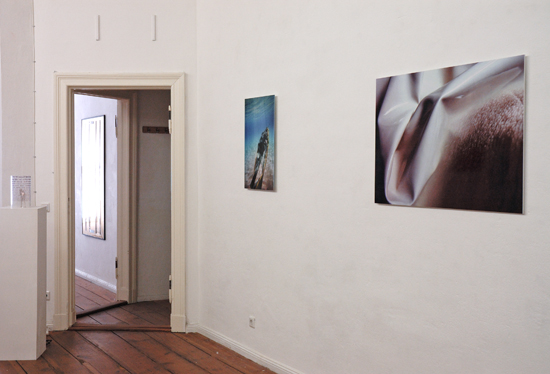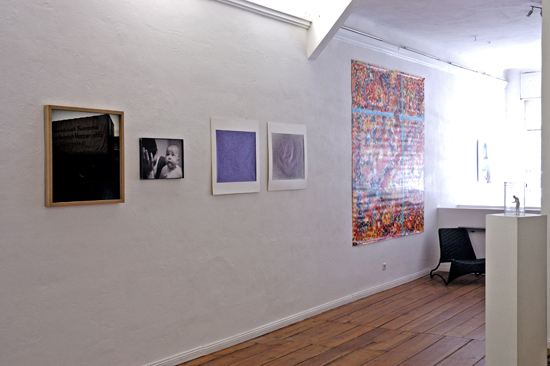 The G.A.S-station filling station for art and impulse, Berlin, sees itself as a living space for cross-disciplinary neighborhoods. On an ongoing basis, we gather contributors from art, science and literature in our international, cross-disciplinary exhibition projects.
In addition to the thematically centered, cross-disciplinary exhibition projects, we present other exhibition formats whenever time permits. This year we want to start with the exhibition Archive II - Current Impulses and Post:Bot:In.
More than 40 postcards were sent to us for the Post:Bot:In project; it will be the prelude to the exhibition and convey a mood picture in these complicated as well as difficult times.
Fourteen positions from our archive and four current positions that we have selected from the submissions will be presented as part of the exhibition Archive II - Current Impulses.
When visiting the exhibition, we ask that you observe the current Corona regulations for Berlin and please wear an FFP2 mask in the rooms. Thank you and welcome back.
Opening 8th April 2022, 6–8 p.m.
Exhibition: 13.4.–31.8.2022
Opening hours: We–Fr 3–6 p.m.
Archive II - with works by:
Thomas Born, Käthe Schönle, Hans Klestofer, Yikui (Coy) Gu, Marko Zink, Michaela Göltl, Thomas Maximilian Stuck (tms, Tomax), Elisa Asenbaum, Draga Jovanovic, Christiane Spatt.
Current impulses with works by:
Oliver Möst, Edin Bajric, Oliver Orthuber und Wolfgang Neipl
06.-20.5.2022, Oliver Möst, Seerosen, 2014
27.5.-10.6.2022, Edin Bajric, Gravitation, 2020
17.6.-1.7.2022, Oliver Orthuber, Elektrogegenständliches – Föhn, 2021
19.-26.8.2022 - Wolfgang Neipl, Shipwreck - Poesie der [Ge] Zeit [en], 2022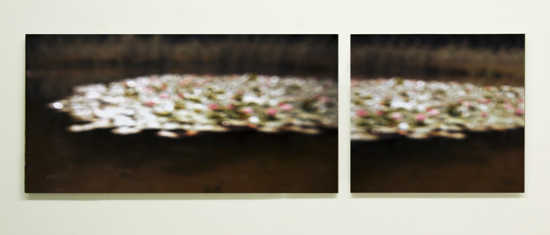 C-Print, behind plexi glass, on AluDibond, ab. 50 x 98 cm & 50 x 55 cm
Seerosen, 2014
Oliver Möst
Opening: 6.5.2022 - 6-8 p.m.
Exhibition: 06.-20.5.2022
Opening hours: We–Fr 3–6 p.m.
The work "Water Lilies, Diptych, 2014" is from a group of works that refers to images from art history. The photos in this series were taken with a camera in which my right eyeglass lens with 6.0 diopters is permanently installed. The viewer of my images thus takes over the visual impairment of the photographer, as a radical transfer of subjectivity.
Oliver Möst born 1968 in Füssen, Allgäu, lives since his photography education 1992-1994 at the Lette-Verein in Berlin. Extensive curatorial work for project spaces, galleries, museums. Since 2016 he is active in the network of free Berlin project spaces and initiatives and is a member of Errant Sound www.errantsound.net. Between 2019 and 2020 he was the artistic director of Kommunale Galerie Schoeler.Berlin and since fall 2020 he is project coordinator of StadtfindetKunst.Berlin for the district of Charlottenburg- Wilmersdorf. Numerous exhibitions in institutions, galleries and project spaces.
Archive II
13.4.–31.8.2022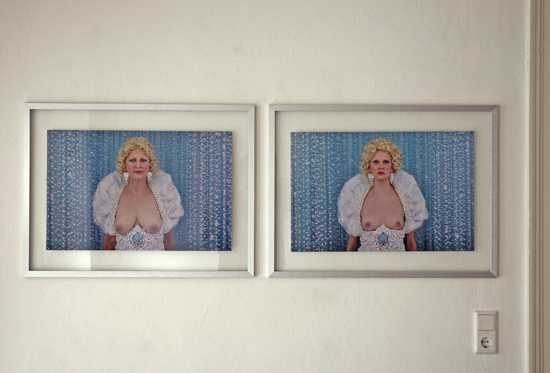 Draga Jovanovic
"Your self is a reflection of myself", 2012
two photos, each 65 x 43 cm, framed, alu, glass, each 80 x 60 cm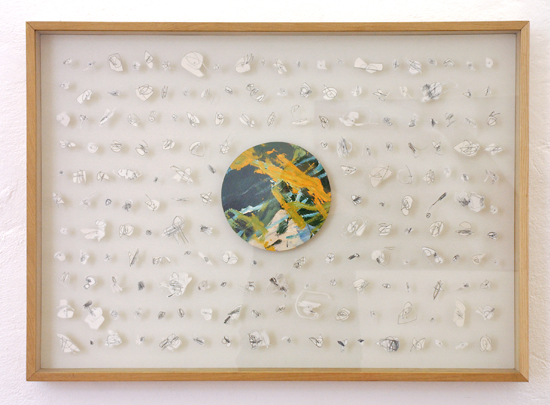 Käthe Schönle
Insects & Offspring, 2009,
Installation, mixed media in showcase, 85 x 60 x 6 cm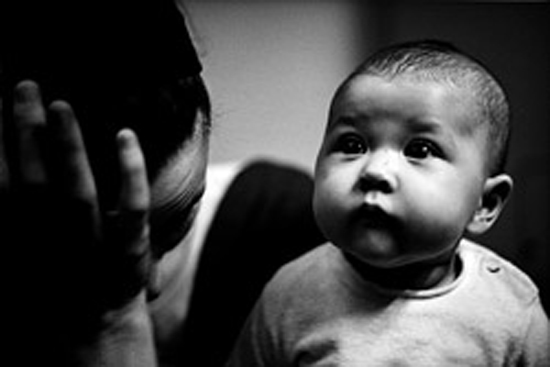 Hans Klestorfer
urs und greta, 2006,
b/w foto, 30 x 45 cm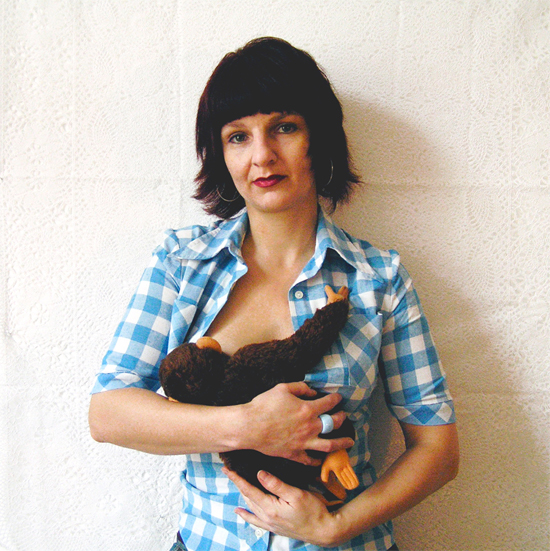 Christiane Spatt
Jane, 2006
digital print on Kapa, 75 x 75 cm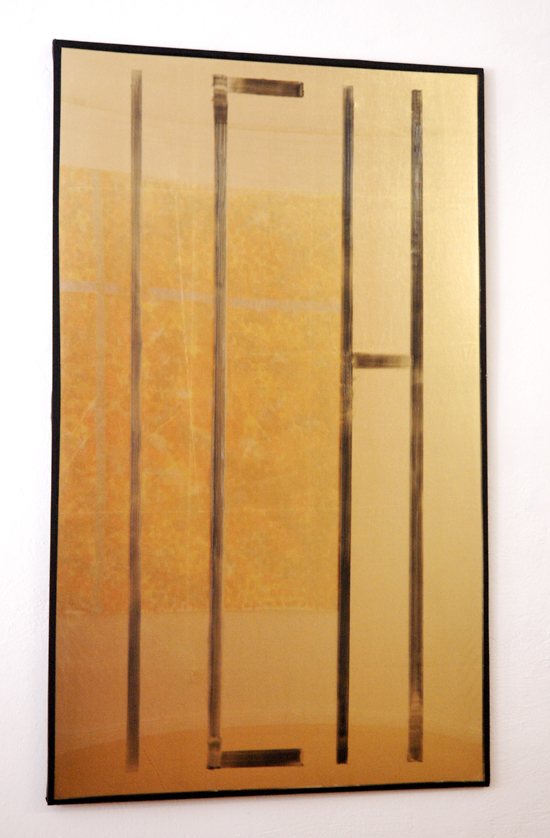 tms,
ICH, 2022
acrylic, aluminum, gold cloth, grease, 150 x 80 cm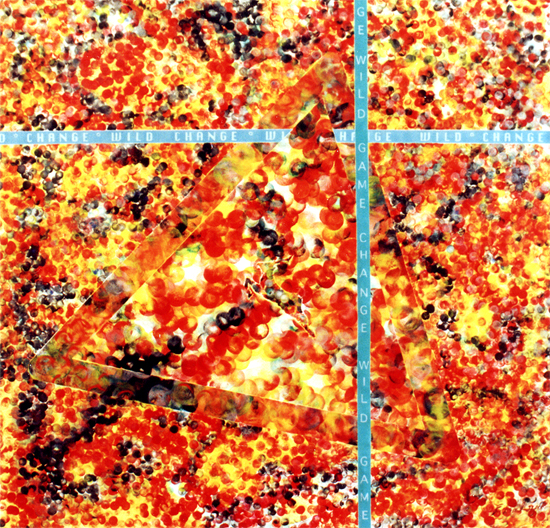 Elisa Asenbaum,
Wild Change, 1998,
acrylic on canvas, 215 x 200 cm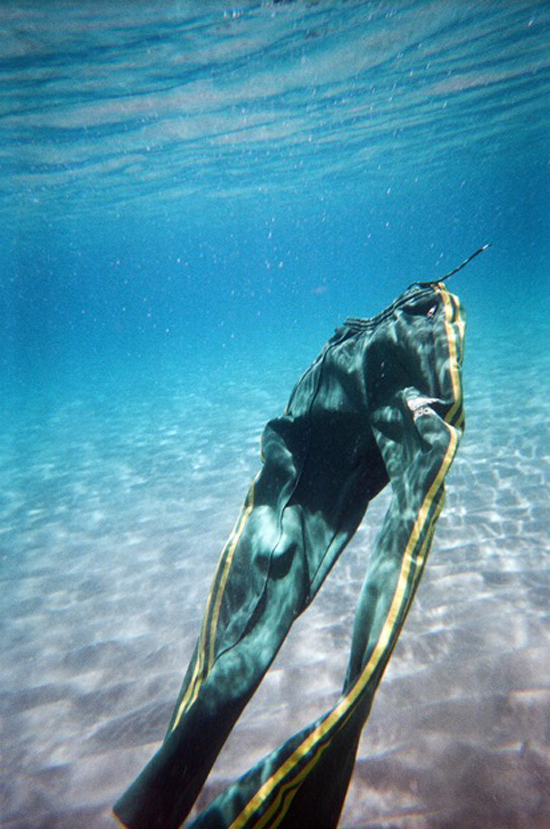 Marko Zink
out of the seria Schwimmer: sporthose, 2009,
diasec, on Alu-Dibond and acrylic, 70 x 45 cm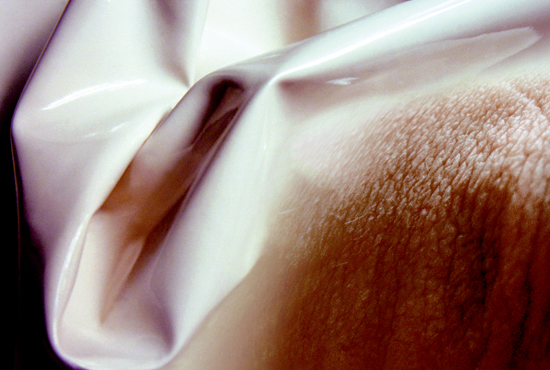 Michaela Göltl
TRANSFORMATION #04, 2002/10
digital print, laminated on synthetic material, 74 x 110 cm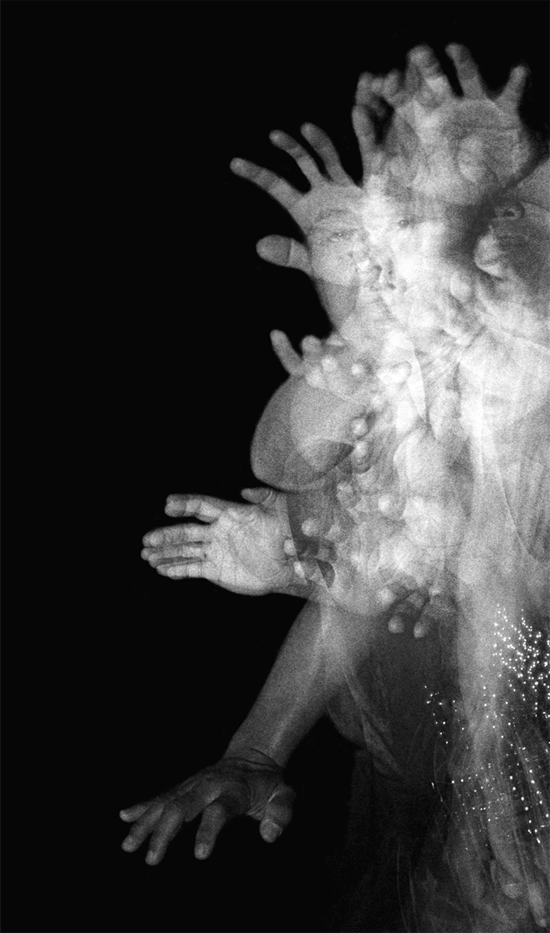 Thomas Born
Bambangs Qigong
pigment-inkjet-print, on Kapa, edition bildo /8'/5', 73 x 42 cm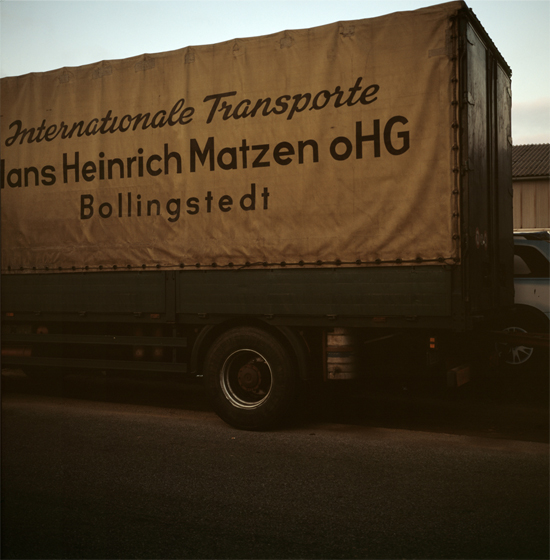 Hans Klestofer
fahrender laster stehend, 2006
digitized 6 x 6 dia, laminated, framed MDF, 50 x 50 cm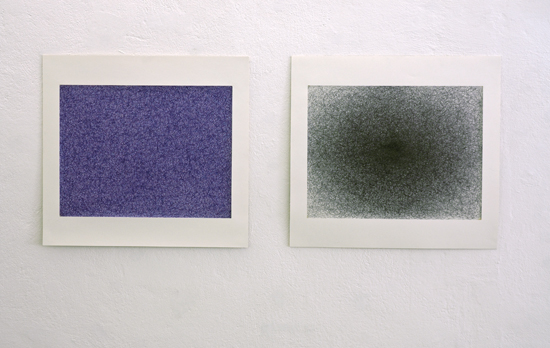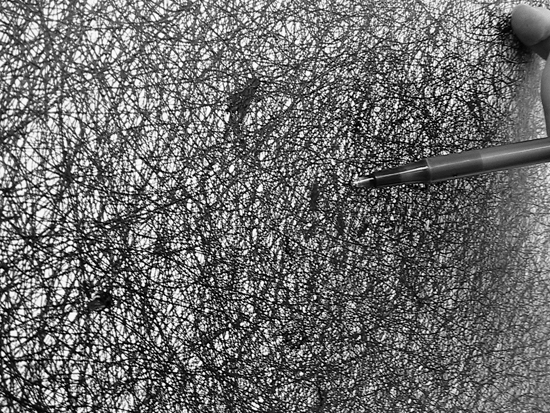 Yikui (Coy) Gu
The Longest Purple Line I Have Ever Drawn (purple), 2009,
The Longest Purple Line I Have Ever Drawn (b/w) Detail, 2009,
pen on paper, 45 x 60 cm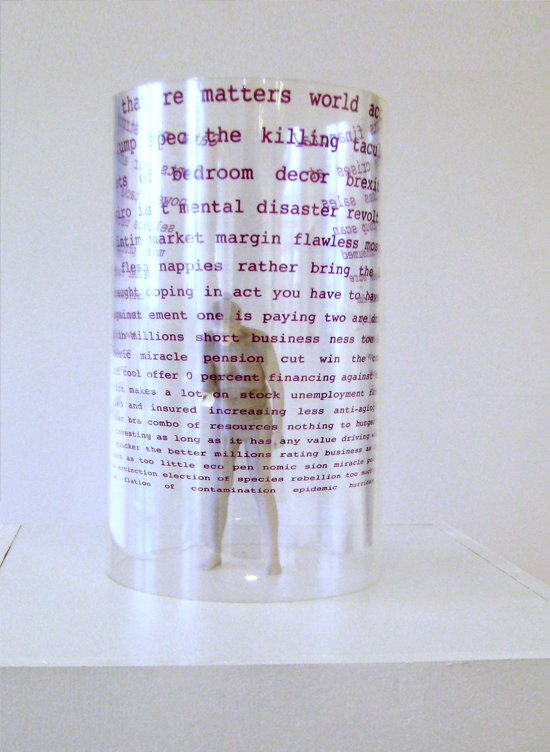 Asenbaum/Stuck, Poem (English): Elisa Asenbaum
reduction, 2018
object, figure 15 cm, acrylic glass Ø 15 cm, h. 25 cm, stand (130 x30), light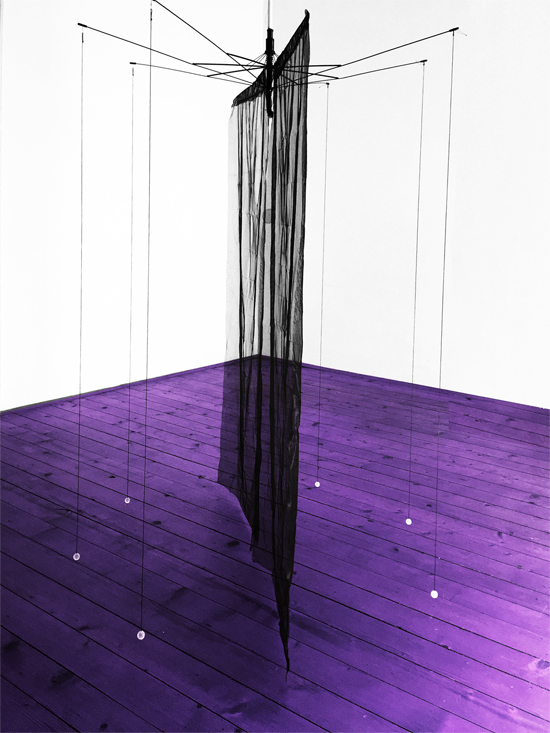 Elisa Asenbaum & Thomas Ballhausen
Die Schirmfrau, 2021
mixed media installation. object/conception: Elisa Asenbaum, iron, wood, cords, glass perls, cloth, 120cm Ø x 225 cm, music stands, text sheets.

Text: Wir buhlen um die Gunst der Schirmfrau: Ballhausen & Asenbaum
Audio: loop 13:55 min, voice: E.A.,
Sound editing: T.M. Stuck.
POST:Bot:In 8.–29.4.2022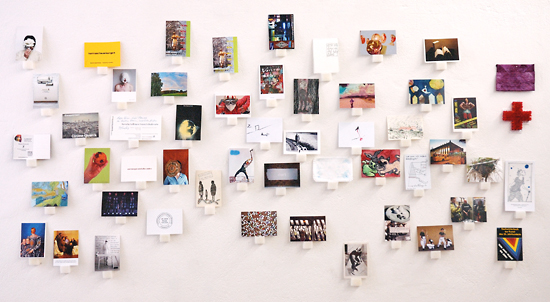 POST:Bot:In - with submissions from:

Albert Markert, Anna-Maria Kursawe, Boris Nieslony, Anne-Theresa Wittmann, Anne Sommer-Meyer, Christiane Spatt, Dietmar Paetzold, Gisela Weimann, Gisela und Hans-Gerhard Templin, Gudrum Fischer-Bomert, Herbert J. Wimmer, Ilse Kilic, Isolde Gorsboth und Ulrich Gorsboth, Klaus Fezer, Kornelia Hoffmann, Manuela Beyer-Bunk, Marion Steinfellner, Martin Wilhelm, Michel Meyer, Patricia Brooks, Paul Kroker, Peter Warum | Rum, Susanne Helmes, Stephan Groß, Tobias Schnotale, Udo Brüning, Viola Wandsey, Wolfgang Grossmann, Wolfgang Hille.

Im Schaufenster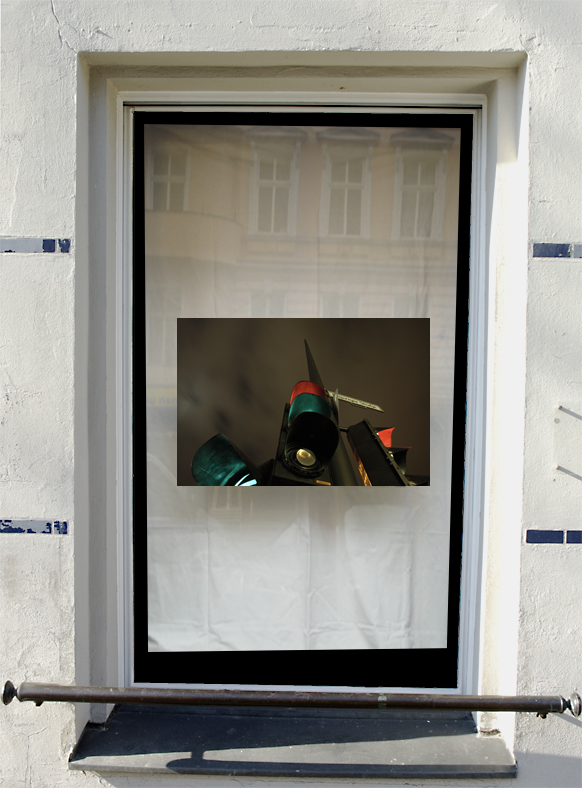 Ampelphase, 2008
tms
Inkjet print on Alu-Dipond, 90 x 70 cm.
daily: 10 am-7 pm at

Schaufenster
The Catalogue to the exhibition ART is DeaD ∞:
56 pages, Berliner Format 31,5 x 47 cm with many colored and b/w images and detailed textes to works and participants in German. Edition of 600 copies. Prize: 12 Euro, ISBN 978-3-948827-12-0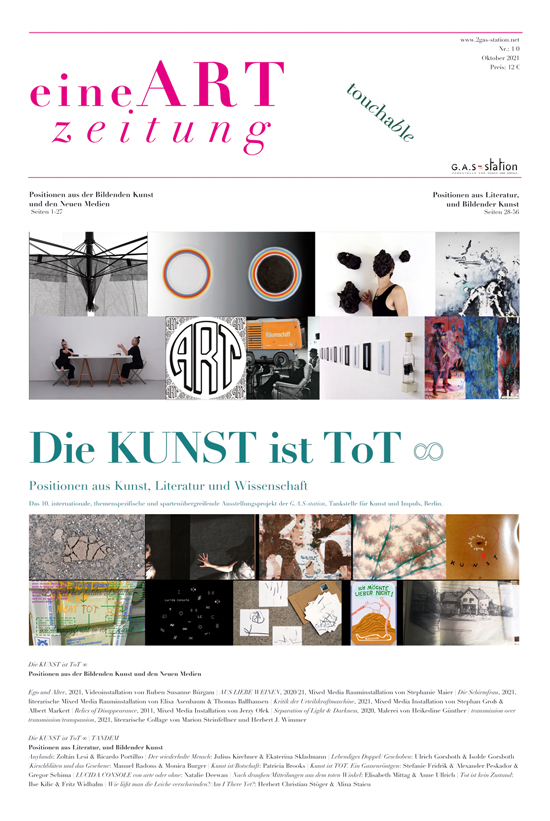 G.A.S-station-YT-channel
Videos and Livestreams
All catalogues and broshures
you may find now on the new Publications page

www.2gas-station.net © 2022