Reflection and Appearance, a Relation-Position Project
(Schein und Spiegelung, ein Relationspositionsprojekt)
positions in art, science and literature
Opening: October 12th 2018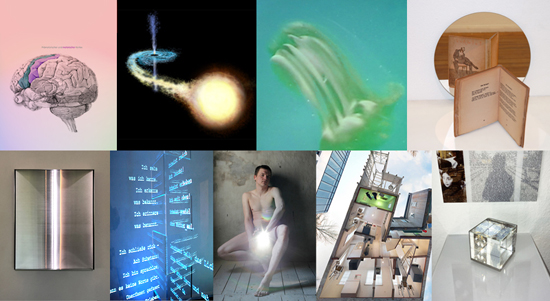 Presentation second round:
Vernissage: January 26th 2018, 7.30 pm
Exhibition: 30.1.-9.2.2018, Tu-Fr 2-6 pm
and furthermore by appointment
With works by:
Vittorio Gallese - Visions of the Body: Embodied Simulation and Aesthetic Experience, Science | Carlo Rovelli - Die Wirklichkeit, die nicht so ist, wie sie scheint: Eine Reise in die Welt der Quantengravitation (Reality Is Not What It Seems: The Journey to Quantum Gravity) / Relational Quantum Quantum Mechanics, Science | Marion Luise Buchmann - Bewegtes Selbst, Video | David Ender - Der Spiegel, Literature |
Julia Schewalie - nylon#acrylic mirror, Objects | Asenbaum/Stuck - Spiegel Schein, Literaturesculpture | Edin Bajrić - Spiegel Licht, Photographs | Michael H. Rohde - nietzsche haus, einstein haus, Photographs | Helga Wimmer - Vor und hinter der Zeit - Zeitbilder und Zeiträume, Installation
The 8th international, interdisciplinary and topic centered exhibition project.
Exhibiting something simultaneously means making it visible. But how do complex exhibitions come into being, the focal points of the theme, the compilation of works and contributions?
To sense the process lying behind this is like distinguishing the individual ingredients of a meal ready on one's plate.
For ten years now we have developed widely fanned-out exhibition projects which we present over a longer time span. In 2014 in our project Augustina träumt in progressius (Augustina dreaming in progress), we began to make our process of development transparent and build it up together with the participating artists.
For our current project Schein und Spiegelung, ein RelationsPositionsProjekt (Appearance and Reflection, a Relation-Position Project), 2017/18, we invite the contributors to take part actively in developing the thematic focus. At the same time, this organically growing process can be accessed and experienced by the public. In the current exhibition concept it is not only possible for interested visitors, but also for the contributors to trace the changes and extensions by the works added and their flowing configuration even before the opening, and thus gain a better understanding of individual positions and their interrelations. In our projects we always consider the multiplicity of forms of expression and aspects regarding content.
The presentation of the second round also is the opening of the third application round. We are looking forward to the submission of works referring to the themes of the nine works as well as their relations.
Furthermore, we are especially keen on corresponding scientific contributions expanding the theme, and are hoping for many visitors and lively exchange!
Elisa Asenbaum&Thomas Maximilian Stuck
Reflection

I see
what I know
I recognise
what's known
I remember
what's named

I conclude –
Oh substance!
I am speechless
when there are no words
Uncompassed composed
in experience.

Appearance

Appears rich
How easy!
Appears elevated
How far above!
Appears ingenious
without mother's mark.

Shining brightly, the light
without weight
effortlessly far and near
there and here
the shine grants me a glance
I say!

Poem: E. Asenbaum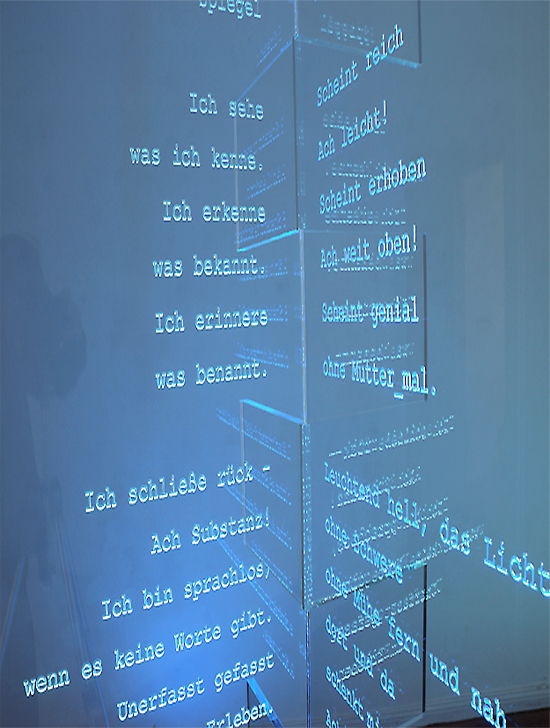 Elisa Asenbaum/Thomas Maximilian Stuck
Spiegel Schein, 2017, literary skulpture, Lyric: E.Asenbaum.
Acryl glass, 2 boards each 200x80x2 cm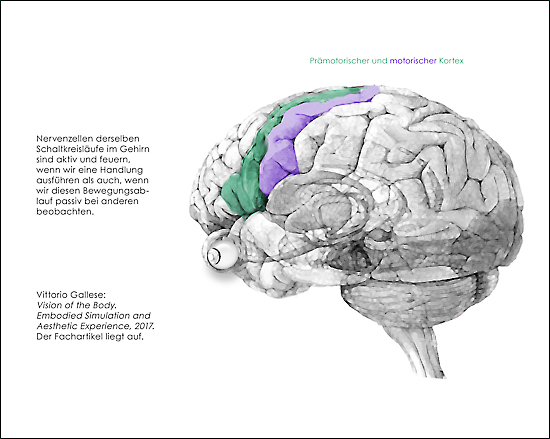 Vittorio Gallese
Vison of the Body. Embodied Simulation and Aesthetic Experience, 2017, Scientific article.

The neuroscientist Vittorio Gallese is one of the discoverers of the mirror effect (mirror neurons) and has extensively elaborated the phenomenon of mirroring in his model "Embodied Simulation". Gallese and other neuroscientists have found out that partly the same action groups in the brain are activated when we actually see something, and when we just imagine it before our inner eye; likewise, when we move in order to act, and when we imagine the action. In this sense, neuroscience can help us to understand that the boundary between so-called reality and our imagination as well as the imaginary worlds of fiction is much less sharp and clear than we believe them to be.
"Vision is a complex experience", says Gallese, and even when we look at a work of art what we 'see' is the result of highly complex interplay involving our body with all its motor potentialities, our senses and emotions, our power of imagination, and our memory with all its experiences.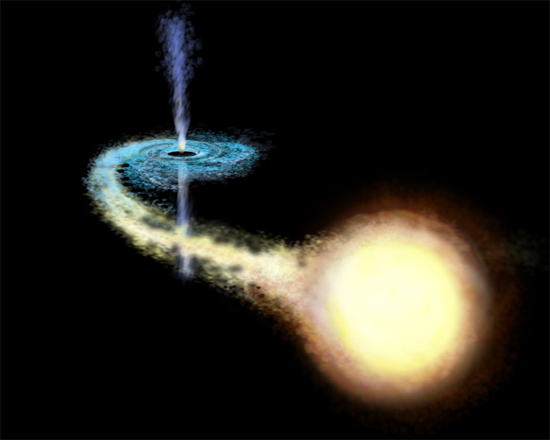 Carlo Rovelli
Die Wirklichkeit, die nicht so ist, wie sie scheint: Eine Reise in die Welt der Quantengravitation, 2016. Relational Quantum Mechanics, 1996, Book, scientific article, poster, video.

Carlo Rovelli is a theoretical physicist known for his works in Loop Quantum Gravity. Apart from this, he has long been working on a relational view of quantum mechanics.

"I suggest that the common unease with taking quantum mechanics as a fundamental description of nature (the "measurement problem") could derive from the use of an incorrect notion, as the unease with the Lorentz transformations before Einstein derived from the notion of observer-independent time. I suggest that this incorrect notion is the notion of observer-independent state of a system (or observer-independent values of physical quantities). I reformulate the problem of the "interpretation of quantum mechanics" as the problem of deriving the formalism from a few simple physical postulates." C.R.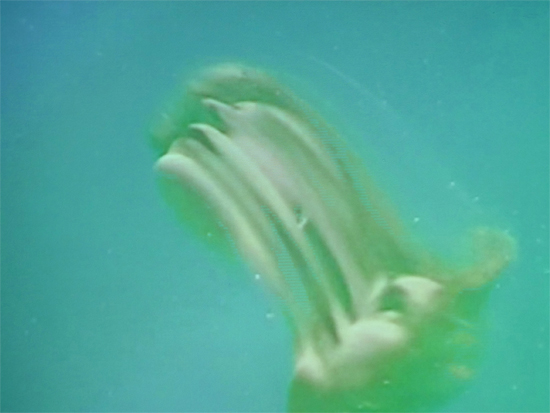 Marion Luise Buchmann
Bewegtes Selbst, 2006/17
Art video, 16:9, 7:14 min

Marion Luise Buchmann's work Bewegtes Selbst (Moved Self) refers to the pointed lines in the poem Spiegel: "I see what I know. I recognise what's know. I remember what's named", and adds a counterpoint.

The video plays with the perception of a reflection on a moving surface, the two-dimensional medium of film making it difficult to discern what is actually moving. Leaving aside one's analytical thoughts, one sees the head and torso of a young woman whose appearance is subject to constant change; one delves into what is 'actually to be seen' and is able to let one's imagination roam freely. For Buchmann "the image reflects another state of being, another life and another story…" that seem to begin under the surface of the water.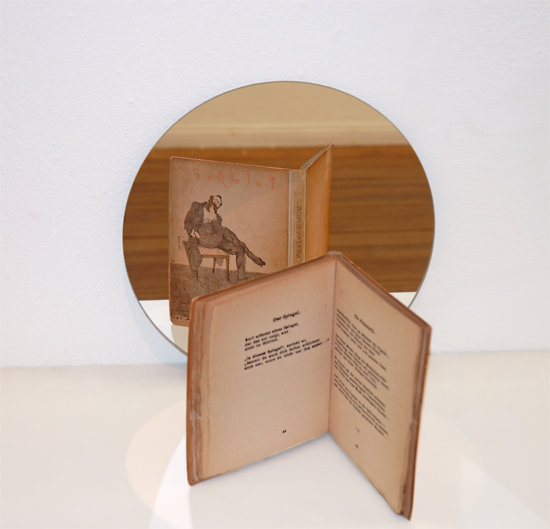 David Ender
Der Spiegel, Falsimile Installation, Book, mirror, paper.

David Ender's falsimile installation Der Spiegel (The Mirror) works with the ambiguity of the mirror object and with the mutual reflection of form and content.
The counterfeit poem Der Spiegel is presented in Christian Morgenstern's book of poems Palmström. Verlag Bruno Cassirer, Berlin 1917. Page 44 is integrated inconspicuously in the antiquarian book – the printed characters as well as the yellowed, somewhat frayed paper are not easy to distinguish from the rest. The work challenges the mechanisms of name-dropping and appearance, which are prevalent not only in the art scene.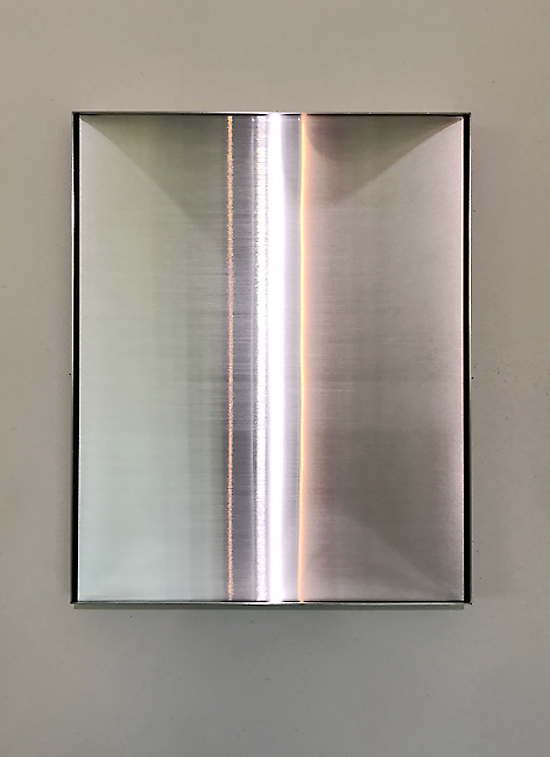 Julia Schewalie
nylon#acrylic mirror, 2017, Objects
Nylon cord, acryl mirror, aluminum, each 50x40x6cm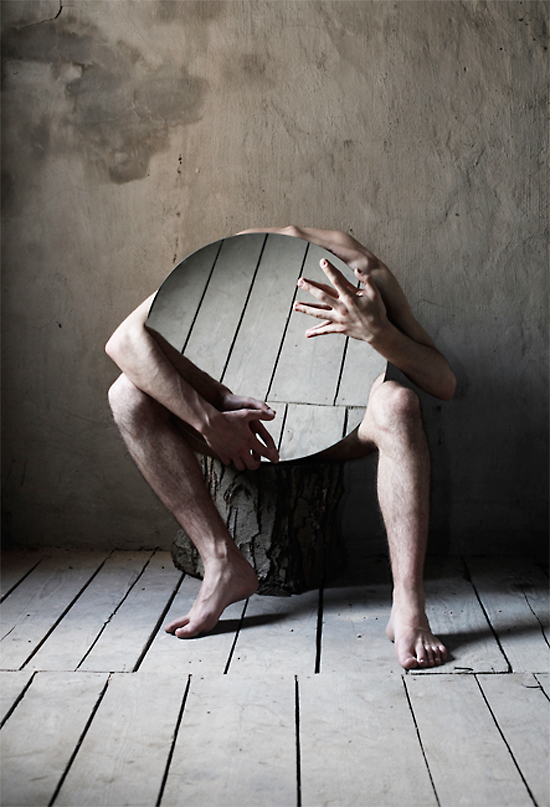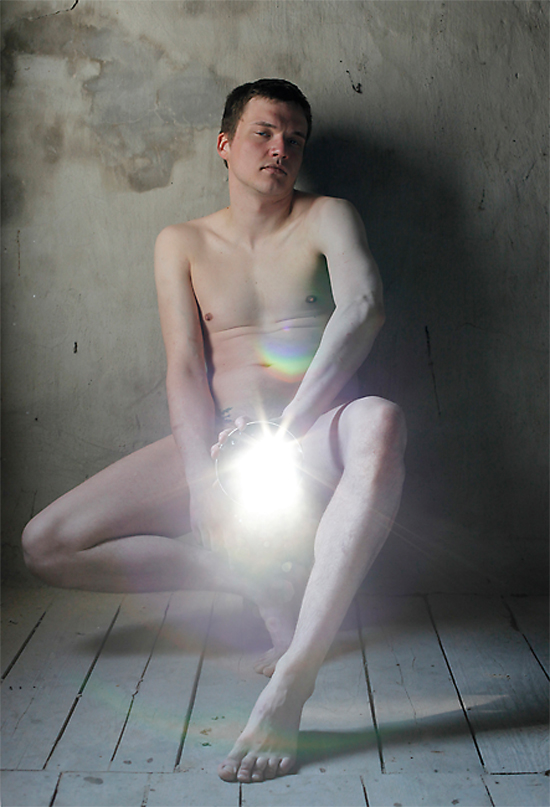 Edin Bajric
Spiegel und Licht, 2009, Photographs
Fine art print on Alu-Dibond each 50x75 cm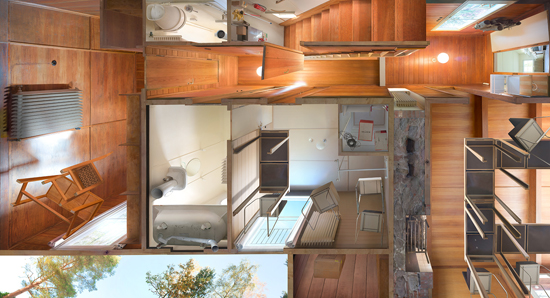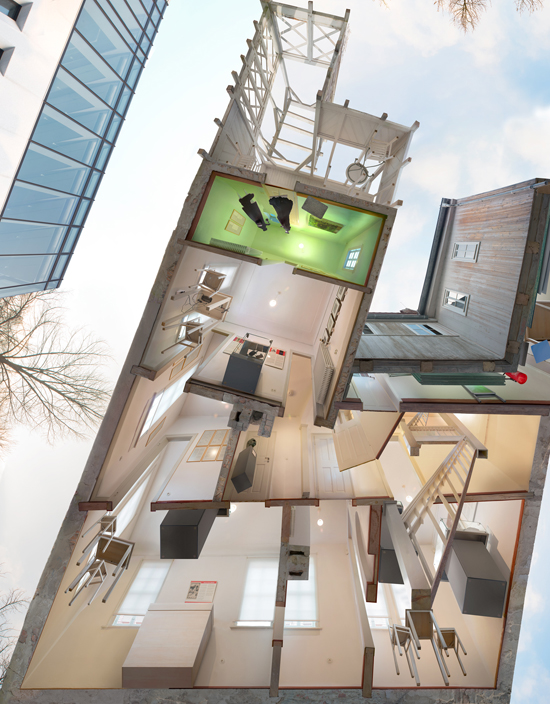 Michael H. Rohde
nietzsche haus, einstein haus, Photo compositions
Pigmented inkjet-print on Alu-Dibond, 140x109 cm, 79x146 cm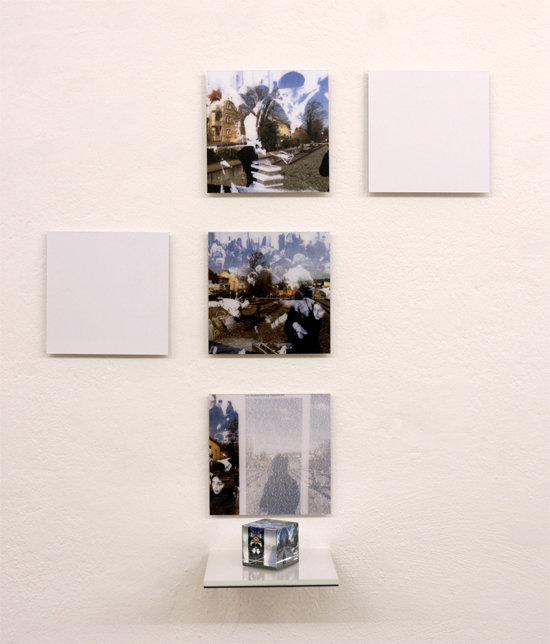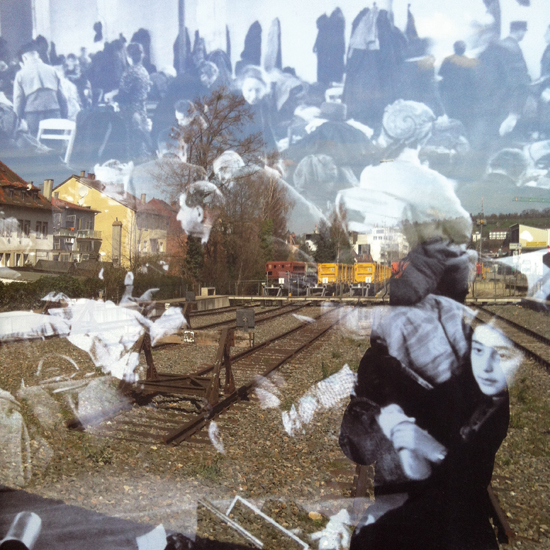 Helga Wimmer
Vor und hinter der Zeit – Zeitbilder und Zeiträume, 2017, Installation
Photographs behind acryl glass, glass cube in steel frame. Photographs each 20x20 cm, glass cube: 6x6x6 cm. Primary photographs: city archive Stuttgart.

All catalogues and broshures
you may find now on the new Publications page

www.2gas-station.net © 2018