The upcoming project 2019/20
11 years of arT and impulsE at G.A.S-station Berlin
+ Between freedom and dictatorship | the wall
Opening 12th October 2019
In 2007 we wrote down our ideals and goals in the form of intentions and published them on our website. Now, eleven years later, we want to give an overview of the 11 years of the exhibition and its development. The publications of the works of over 350 art, literature and science contributors will be presented on space-filling, large objects, whereby our publications will be transformed into three-dimensional objects. All works will be shown in this special presentation once again and we invite the contributors to participate in the project (wall cycle and events) and to celebrate with us!
Within this framework, the cycle Between freedom and dictatorship | the wall starts.
The clarification of our cryptically sentence - this absurd sentence, which we sent along in our newsletters several times "Due to the change in society and in the G.A.S-station Berlin, Mr. Stuck goes into freedom and Mrs. Asenbaum becomes a dictator" - now will serve as a new impulse for an artistic discourse.
We want to invite artists and writers to give artistic form to this current topic on a wall (500x290x50 cm/maximum) in the large exhibition space of the G.A.S-station.
We want to stimulate a discussion about the antipodes freedom and dictatorship also in the transferred sense. This does not only mean the political aspects and nuances between freedom and dictatorially approach as well as the scope for action in democratic systems which is underlying the free market economy, but also a reflection on one's own wishes for diction and the adaptation of habits of thoughts and procedures, especially in artistic creation, to the given social and cultural conditions.
Furthermore, we plan a programme of events for this project with focus on literature (readings, performances), film (video days, film rolls), science (lectures, video documentaries), music (installations, performances), guided tours and discussions is planned. We look forward to your suggestions and discussions.
***
This was the 8th international, interdisciplinary and topic centered exhibition project and may be looked up at the archive pages.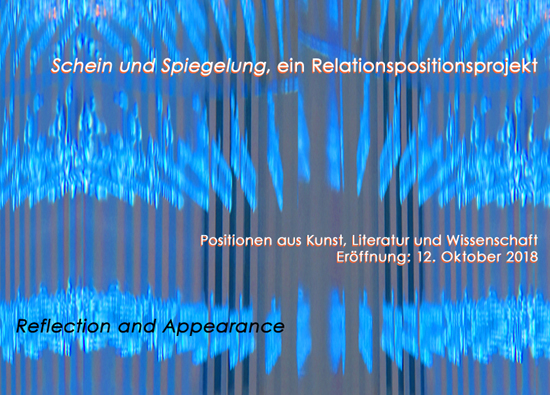 Edin Bajrić - Spiegel Licht, Photographs | Veruschka Bohn - How to disappear, Performance, Photographs | Thomas Born - Beobachter, Gaffer, Voyeure, Lecture | Časlav Brukner - Quantum causality. Experimental verification of an indefinite causal order, scientific article, poster object | Marion Luise Buchmann - Bewegtes Selbst, Video | Jana Debrodt - Spot an, Klang!, Sound Installation | Thilo Droste - Droste, Goya auf Unleserlich (out of the seria Survival Reloaded) | David Ender - Der Spiegel, Literature | Dominic Gagnon - Going South/part 4: Dear haters, Video installation | Vittorio Gallese - Visions of the Body: Embodied Simulation and Aesthetic Experience, Science | Stephan Groß - Beats, Animated video loop (music: Alfred Banze) | Wolfgang Grossmann - Wie Mathieu sein Spiegelbild verliert ..., Performative reading | Harald Hofer - Was wissen wir über die Realität?, Scientific guided tour | Thomas Kemnitz - time-shift, Experimental documentation | Petra Lottje - The World Summit, Video | Jerzy Olek - Spiked Object, Three dimensional photoinstallation | Oliver Orthuber/Rieko Okuda - Myriade / Video-Sound-Performance-Installation | Michael H. Rohde - nietzsche haus, einstein haus, Photographs | Carlo Rovelli - Die Wirklichkeit, die nicht so ist, wie sie scheint: Eine Reise in die Welt der Quantengravitation (Reality Is Not What It Seems: The Journey to Quantum Gravity) / Relational Quantum Quantum Mechanics, Science | Julia Schewalie - nylon#acrylic mirror, Objects | Nora Schöpfer - the sculpture and the viewer are one, Photoinstallation | Christiane Spatt - in disguise, Photographs | Claudia Taller, Syndrom? Down!, Literature | Stuck / Asenbaum - Spiegel Schein, Literaturesculpture | Helga Wimmer - Vor und hinter der Zeit - Zeitbilder und Zeiträume, Installation.
The 8th international, interdisciplinary and topic centered exhibition project.
Reflection and Appearance, a Relation-Position Project
Positions in art, literature and science
Exhibition: 16.10.2018-22.2.2019
Catalogue: € 47,-
Exhibiting something simultaneously means making it visible. But how do complex exhibitions come into being, the focal points of the theme, the compilation of works and contributions?
To sense the process lying behind this is like distinguishing the individual ingredients of a meal ready on one's plate.
For ten years now we have developed widely fanned-out exhibition projects which we present over a longer time span. In 2014 in our project Augustina träumt in progressius (Augustina dreaming in progress), we began to make our process of development transparent and build it up together with the participating artists.
For our project Schein und Spiegelung, ein RelationsPositionsProjekt (Appearance and Reflection, a Relation-Position Project), 2017/18/19, we invited the contributors to take part actively in developing the thematic focus. At the same time, this organically growing process could be accessed and experienced by the public. In the current exhibition concept it was not only possible for interested visitors, but also for the contributors to trace the changes and extensions by the works added and their flowing configuration even before the opening, and thus gain a better understanding of individual positions and their interrelations. In our projects we always consider the multiplicity of forms of expression and aspects regarding content.
Elisa Asenbaum&Thomas Maximilian Stuck

All catalogues and broshures
you may find now on the new Publications page
+++
New phone number: 0049 (0)30 25 966 036

www.2gas-station.net © 2019